Berry Good Recipes
Here are a few of our favourite recipes.
Generally you can replace blueberries with saskatoons in almost any recipe that you find.
Haskap berries are great in jams, sauces, smoothies, and toppings for ice cream and cheesecakes.
Any recipe that calls for canned cherry pie filling can be replaced with Sour Cherry Pie Filling. Did you know that the canned cherry pie filling that you buy at the store is made with sour cherries not "Bing" cherries? Try using these sour cherries and make your own pie filling; you'll never go back to store-bought !
To Freeze: STRAWBERRIES; NoSugar Method - WASH, hull, and drain berries. Place in a single layer on tray. Freeze until hard ( abot 30 minutes). Pack quickly into freezer bags or containers (leave 1/4 inch headspace). Sugar Pack Method - Add 3/4 cup sugar to every 4 cups of strawberries.
To Freeze: Raspberries, saskatoons, haskaps, and chokecherries: - Freeze UNWASHED on trays in single layer until hard (about 30 minutes). Pack quickly into freezer bags removing as much air as possible or into freezer containers leaving 1/4 inch of headspace. Rinse and drain straight from the freezer for use in your recipe.
Rhubarb or Sour Cherry Rosettes
Feature 2
Sour Cherry Sauce
INGREDIENTS
3 cups pitted sour cherries

¾ cup sugar

¼ teaspoon ground cinnamon

1 ½ teaspoons balsamic vinegar

¾ teaspoon cornstarch

1 teaspoon water

PREPARATION

Place the cherries, sugar and cinnamon in a medium-size saucepan over medium heat. Simmer, stirring occasionally, for 10 minutes. Stir in the vinegar. Place the cornstarch in a small bowl and stir in the water until smooth. Add to the sauce and cook until sauce begins to thicken, about 2 minutes longer. Strain. Serve over vanilla ice cream, poundcake pancakes or poached pears.

Feature 3
Cherry Pie Filling
INGREDIENTS
5 to 6 cups fresh pitted cherries, about 2 1/2 to 3 pounds

1/2 cup water

2 tablespoons freshly squeezed lemon juice

3/4 cup granulated sugar

4 tablespoons cornstarch

1/4 teaspoon cinnamon

INSTRUCTIONS

In a saucepan over medium heat, combine cherries, water, lemon juice, sugar and cornstarch.

Bring to a boil; reduce heat to low and cook, stirring frequently, for about 10 minutes.

If using, stir in almond extract. Cool slightly before using as a topping.

NOTES

Refrigerate leftover fresh cherry pie filling in a sealed container for up to 3 days.

This recipe freezes beautifully.
Chicken Pasta Salad withSaskatoon Berries
2 1/2 cups cooked chicken cubed or sliced
3 cups pasta ( tricolor rotini is very nice)
1 cup sliced celery
1 cup pea pods ( or peas )
1/4 cup chopped parsley
1 cup fresh saskatoons
1/2 cup chopped red pepper
1/4 cup sliced red onion
2-3 tablespoons chopped fresh basil
1/2 to 3/4 cup grated parmesan cheese
salt and pepper to taste
1. Cook pasta.
2. About 1 minute before the pasta finishes cooking add the pea pods ( or peas ). Drain and rinse with cold water.
3. In a large bowl, add pasta and peas along with the remaining salad ingredients except the parmesan cheese.
DRESSING: 1 /2 cup olive oil
1/3 cup red wine vinegar
1/2 teaspoon salt
1/4 teaspoon pepper
Whisk together dressing ingredients. Toss salad with dressing.Cover and refrigerate several hours or overnight to blend flavors. Before serving toss with parmesan cheese. Enjoy !
Saskatchewan Saskatoon Berry Pie
Saskatchewan Saskatoon Pie
Filling: 1 and 1/4 c. water
1c. sugar
2 tablespoons lemon juice or 1/8 tsp almond extract
4-5 cups saskatoon berries
3-4 tablespoons cornstarch
1-2 tablespoons butter
In a saucepan, boil water and sugar together with lemon juice or almond extract. Add saskatoons and cook for 15 min. over medium heat. Do not cook longer as this makes the berries tough. In a cup combine cornstarch with 3 tablespoons water to make a smooth paste. Pour into cooked berry juice and cook until thickened, stirring as necessary. Remove from heat. Stir in the butter. Let cool and then pour into an uncooked 9 inch pie shell. Cover with second crust or make a streusel topping.for topping. Bake at 450 degrees for 5 min. Reduce heat to 350 degrees Farenheit and bake for 35 minutes.
2 c. saskatoons
1 c. water
2 tablespoons cornstarch
3/4 c. sugar
juice from 1 lemon
Place saskatoons in the water that has first been brought to a boil. Simmer 5 minutes. Blend cornstarch and sugar, add slowly to saskatoons while stirring. Simmer until thickened and clear, no more than 15 minutes. Add lemon juice and cool.
( Great on pancakes, waffles, ice cream, cake or cheesecake. )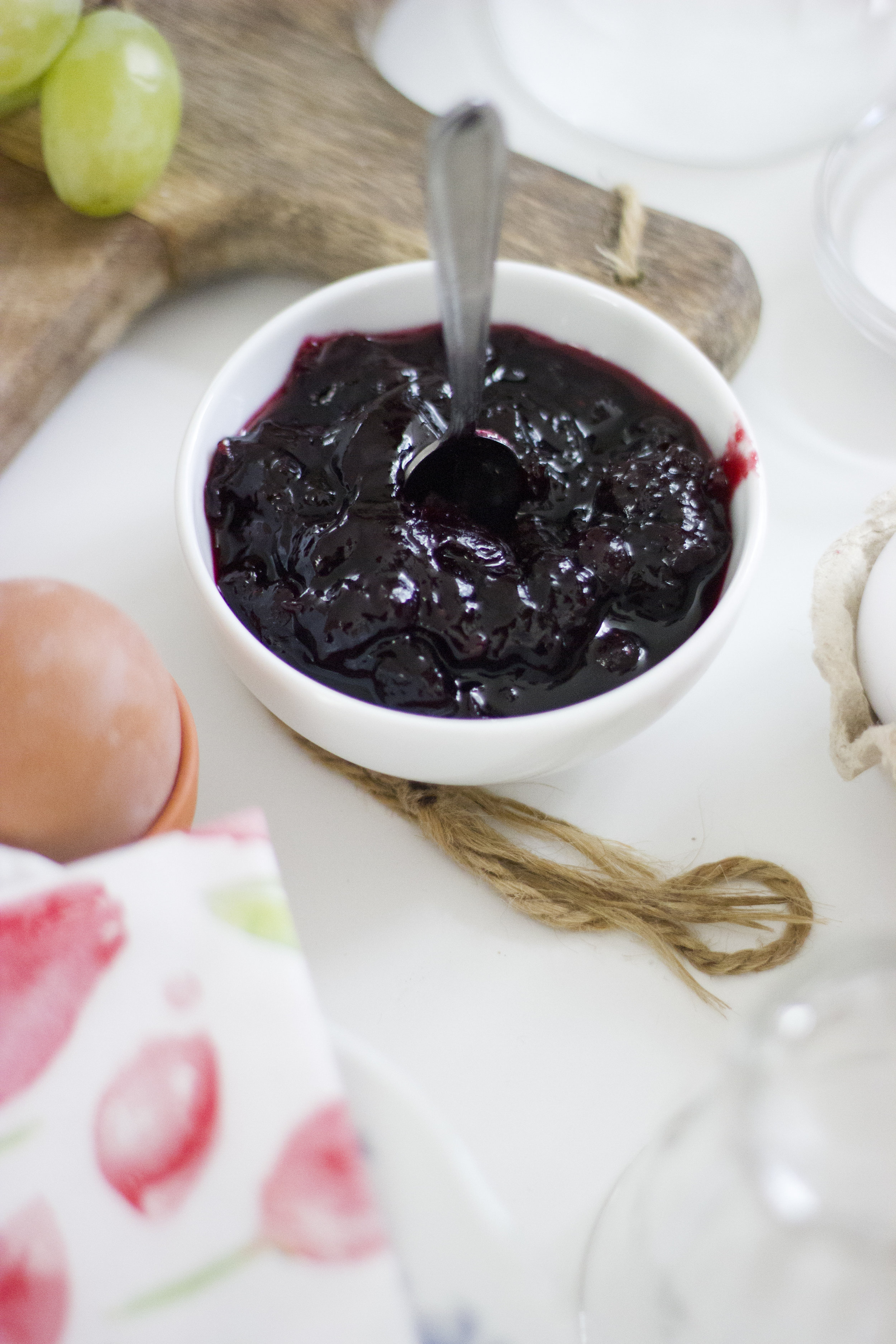 #1 Light Haskap Syrup (aka Really Runny Haskap Jam)
2 c haskap
2 c sugar
2 c water
1/4 c fresh lemon juice
Place 1 c. water and 1 c. frozen berries in blender. Blend. Pour ingredients into stock pot. Rinse blender with 1 c. water and add to stock pot. Add 2 c. sugar and lemon juice. Boil 10-20 minutes. The skins dissolve in the blending and the seeds are so small you hardly notice them. The lemon flavor is not noticable. Place in sterilized jars with lids.
There is a noticeable difference in the intensity of the flavor depending on how much water has been added. As can be expected, the more water, the lighter the syrup in both flavor and color. The less water, the more intense the flavor, which resembles a raspberry/blackberry syrup.
http://www.pickyourown.org/jam.htm has some great advice: "I keep a metal tablespoon sitting in a glass of ice water, then take a half spoonful of the mix and let it cool to room temperature on the spoon. If it thickens up to the consistency I like, then I know the jam is ready. If not, I mix in a little more pectin (about 1/4 to 1/2 of another package) and bring it to a boil again for 1 minute."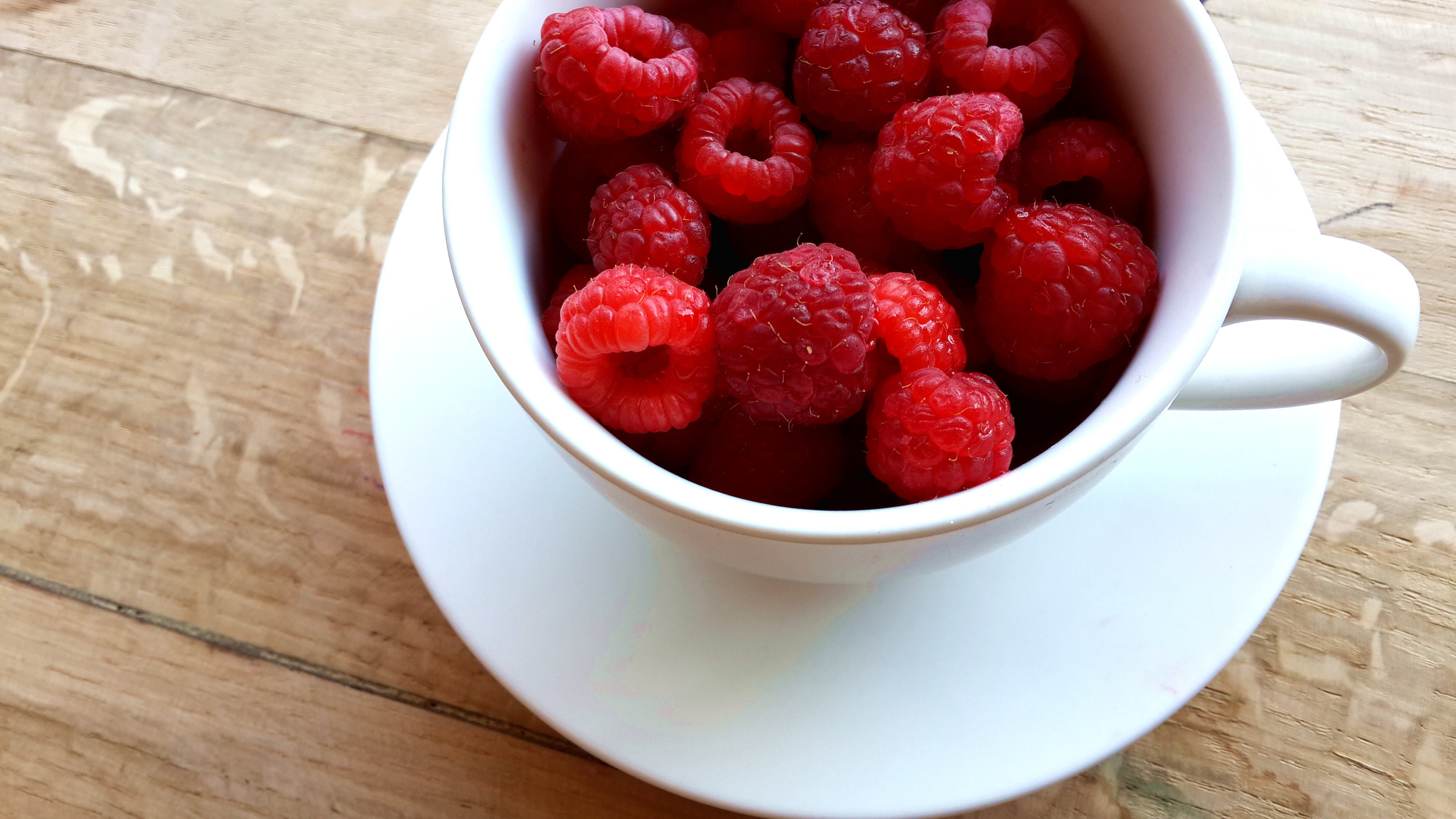 NGREDIENTS
Raspberry Filling
2 12-ounce bags of frozen raspberries (see notes)
1/2 cup granulated sugar (more depending on tartness of your berries)
2 tablespoons flour
1 tablespoon cornstarch
juice of one lemon
Crumble Layer
3 cups rolled oats
3 cups flour
2 cups brown sugar (loosely packed)
1 teaspoon baking powder
1 1/2 cups melted butter (I prefer salted)
1/2 teaspoon salt
INSTRUCTIONS
Prep Raspberries: Preheat the oven to 350 degrees. Place raspberries in a large colander. Run warm water over them for a minute, and then let the liquid drain out for about an hour until softened and thoroughly drained (see notes). Mix raspberries with sugar, flour, cornstarch, and lemon juice.
Soft Delicious Crust: Mix the oats, flour, sugar, baking powder, butter, and salt together into a crumble-like mixture. Press two thirds of the crumble into the bottom of a 9×13 pan lined with parchment paper. Bake for 10 minutes.
Bake: Arrange the raspberry layer on top of the baked bottom layer. Sprinkle with remaining crumble. Bake for another 25-30 minutes.
Finish: Remove from oven. They will need a little time to set up into "bar" formation, so chill them for a few hours to get them really solid. Orrrr… cut into it right away and eat it like a soft fruit crisp! You should be able to remove them from the pan easily by pulling up on the edges of the parchment paper.
https://pinchofyum.com/raspberry-crumble-bars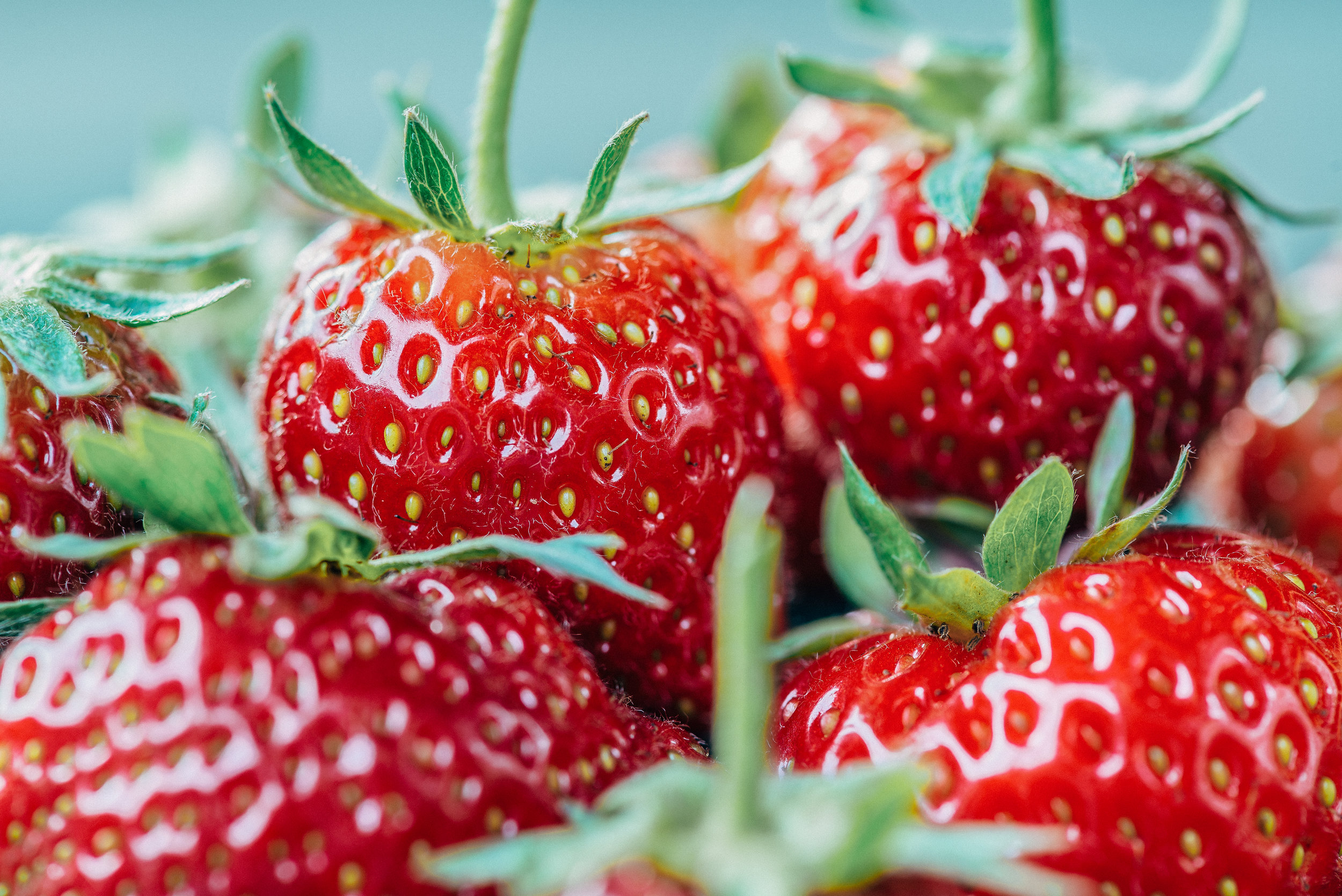 Ingredients :
2 tablespoons sesame seeds
1 tablespoon poppy seeds
1/2 cup white sugar
1/2 cup olive oil
1/4 cup distilled white vinegar
1/4 teaspoon paprika
1/4 teaspoon Worcestershire sauce
1 tablespoon minced onion
10 ounces fresh spinach - rinsed, dried and torn into bite-size pieces
1 quart strawberries - cleaned, hulled and sliced
1/4 cup almonds, blanched and slivered
Directions :
In a medium bowl, whisk together the sesame seeds, poppy seeds, sugar, olive oil, vinegar, paprika, Worcestershire sauce and onion. Cover, and chill for one hour.In a large bowl, combine the spinach, strawberries and almonds. Pour dressing over salad, and toss. Refrigerate 10 to 15 minutes before serving.
Nutrition Facts Per Serving: 491 calories; 35.2 g fat; 42.9 g carbohydrates; 6 g protein; 0 mg cholesterol; 63 mg sodium. 4servings 491cals
Copied from www.allrecipes.com/recipe/14276/strawberry-spinach-salad-i/
1 cup rolled oats 1/2 tsp salt
1 cup buttermilk 3/4 cup lightly packed brown sugar
1 cup all purpose flour 1 egg, beaten
1 tsp baking powder 1/4 cup melted margarine
1/2 tsp baking soda 1 cup saskatoons, fresh or frozen
Combine oats and buttermilk in small bowl. Let stand. Combine flour, baking powder, soda, salt and brown sugar. Stir well to blend. Add egg and melted butter to oat mixture. Mix well. Add oat mixture all at once to dry ingredients. Stir just until all ingredients are moistened. Gently fold in saskatoons. Fill well greased muffin cups 3/4 full. Bake at 400 degrees F for 15 to 22 minutes. Makes 1 dozen muffins
1 cup buttermilk